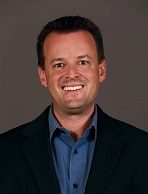 Josh Miller is the Vice President of Business Development for The Persimmon Group. With over 15 years of sales, advertising, and account management experience, Josh oversees The Persimmon Group's business development efforts. From marketing to sales and everything in between, he works to ensure that all needs of The Persimmon Group's customers are met. Since joining The Persimmon Group in 2006, Josh has worked launching a number of initiatives including open enrollment classes, TPG Speakers, trade show exhibits, The Persimmon Group Newsletter, a branding campaign and implementation of a new CRM system. Josh also works closely with The Persimmon Group's clients and its business development team to ensure the best possible service is provided to The Persimmon Group's customers.
Prior to joining Persimmon, Josh served as a Senior Media Consultant for an independent advertising agency where he managed a portfolio of the company's largest and most prestigious clients. Josh negotiated deals with both local cable companies and nationwide affiliates generating over $3 million in sales. Josh also managed the national television advertising campaign for the launch of the independent film, Taliesin Jones.
Josh earned a Bachelor of Arts Degree from Oral Roberts University. He currently lives in Tulsa with his wife Elizabeth and sons Colin and Ian.