It's important to us that our justice, equity, and inclusion journey is rooted in action, not just words.
We're also painfully aware how easy it is for organizations to become performative in their DEI efforts. We're not always going to get it right. But if you're here, it means you want to know more about what we're doing in real life to build a more inclusive, diverse, and equitable company. Here's our answer:
Justice, diversity, equity, and inclusion are moral and ethical imperatives for The Persimmon Group.
Diversity at The Persimmon Group refers to all the characteristics that make individuals different from each other. It includes characteristics or factors such as religion, race, ethnic origin, language, gender, sexual orientation, disability, neurodiversity, age, veteran status, or any other potential factor of difference.
A workplace populated with a wide range of experiences and perspectives promotes innovation and business success. Diversity management makes us more creative, productive, responsive, and competitive.
For these reasons, The Persimmon Group is committed to employment diversity with respect to all aspects of employment. All decisions regarding recruitment, hiring, promotion, compensation, employee development decisions such as training, and all other terms and conditions of employment, will be made without regard to race, religious beliefs, color, gender, sexual orientation, marital status, physical and mental disability, age, ancestry, or place of origin.
The Persimmon Group will make every reasonable effort to ensure that our staff is representative of many forms of difference—both visible and invisible—including women, men, non-binary people, people of color, veterans, people with disabilities, older workers, members of the LGBTQIA+ community, and neuro-diverse people.
To do this, The Persimmon Group will continuously explore, learn, and implement new strategies to attract and retain employees from underrepresented groups, and endeavor to eliminate systemic barriers to advancement.
What We Do Every Year:
Evaluate and Address Pay Equity. Our leadership team meets twice per year to review pay equity. This means compensating employees the same when they perform the same or similar job duties, while accounting for other factors (such as experience, job performance and tenure).
Review and Adjust Our Recruiting Process. Each year, we evaluate our current recruiting process against good practice and emerging innovations in the DEI space. Our goal is to become and remain representative of the diversity of clients we support.
Gather feedback from employees. Frequently throughout the year, we ask our employees for feedback about what we can stop doing, start doing, or keep doing to build a more just and inclusive team. We do this in both in-person forums, and anonymous ones.
Donate money and time. Throughout the year, we donate money and time to organizations doing justice work in our community. We find opportunities to volunteer both individually, and as a team.
Facilitate learning. Multiple times per year, we intentionally schedule events to deepen our team's understanding. While this includes formal training, this has also involved facilitated team discussions about challenging topics, guest speakers, team challenges, book discussions, and volunteer opportunities.
What We've Done in 2022:
Full Policy Review. Our leadership team is completing a full review of all our HR policies, through the lens of justice, equity, diversity, and inclusion.
Speaker: Rena Cook. We invited vocal coach Rena Cook to speak to us about using our voice to be more commanding and authentic, especially for those who have been socially and culturally discouraged from "taking up space" in executive settings.
New Resume Submission Options. On the advice of our Veterans panel, we have introduced new methods for candidates to share their experience with us. The ability to submit video, presentations, or written paragraphs can help candidates with non-traditional backgrounds put their best foot forward!
Greenwood District Tour. This Fall, our team will be participating in a 2-hour walking tour of the Greenwood District, the site of the 1921 Race Massacre in Tulsa, Oklahoma.
Reading Partners Book Drive. Following the lead of a Black Employee Resource Group at one of our clients, we are donating books featuring racially and culturally diverse characters to Reading Partners, a national non-profit providing individualized reading support to students so they can read at grade level by Grade 4.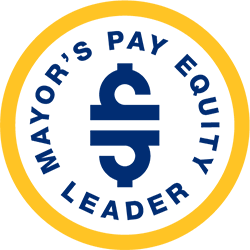 We are proud to be a community signatory of the Pay Equity Pledge.